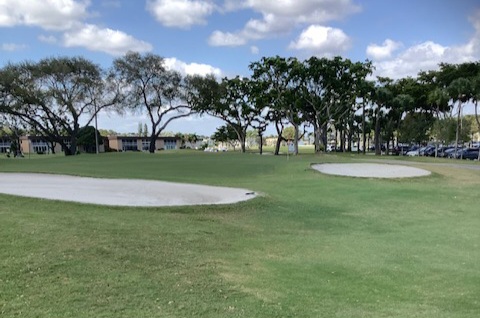 Routine wear and tear on a golf course, as well as the constant stress of Florida's climate, eventually makes it necessary for a golf course to undergo renovation to improve playing conditions. 
IGM has long been the golf course maintenance contractor for Kings Point Golf and Country Club in Delray Beach, Florida. Kings Point is home to two golf courses, and in the summer of 2022, IGM began a renovation of the property's Executive Golf Course. The result has improved the customer experience and increased rounds. 
Kings Point's Executive Golf Course has long been known for its beautiful scenery and challenging conditions for golfers at all skill levels.  Vesta Property Services and the Kings Point Recreation Corp. Board of Directors wanted to keep it that way and authorized IGM to oversee a full renovation of the course.
Kings Point Director of Golf, Jeff Huelsman said, "We completely changed out the grass and planted a new variety. The old turf was contaminated, and we converted to TifEagle Bermuda grass."  TifEagle Bermuda grass is known for its performance quality, with fast and accurate putting speeds, as well as for retaining its color during cold spells in the south.  
In addition, the project included lengthening some tees and touching up bunkers with new sand. As a former golf course superintendent, Huelsman noted that he and IGM Superintendent Bill Jeffrey worked well together to achieve the improvements to the golf course they desired.  
However, about a month before the scheduled opening date, Kings Point was hit with an EF-2 tornado that set the project back several weeks. Superintendent Bill Jeffrey said, "The tornado jumped across the property. It ripped off the second floor of condominiums, and downed numerous trees. There was a lot of the debris that ended up on the golf course and needed to be picked up."
Since the golf course has reopened, the response has been nothing but positive. "The course is slam-packed, which has a lot to do with the renovation," said Huelsman. "The greens are fabulous."
"Renovating a golf course is a big commitment. IGM appreciates the relationship we've built with Vesta Property Services at Kings Point and their confidence in our team. We are planning to renovate their second course this summer," said Greg Plotner, CGCS, IGM Executive Vice President.
IGM provides complete golf course maintenance services in markets across the U.S. We have expertise working in various regions, terrains, and climate conditions. The company is committed to agronomic excellence and environmentally conscious methods and products. To request a consult, please contact Greg Plotner, Executive Vice President, 407-589-7200. Additional information may be obtained by visiting IGM's website at golfmaintenance.com.