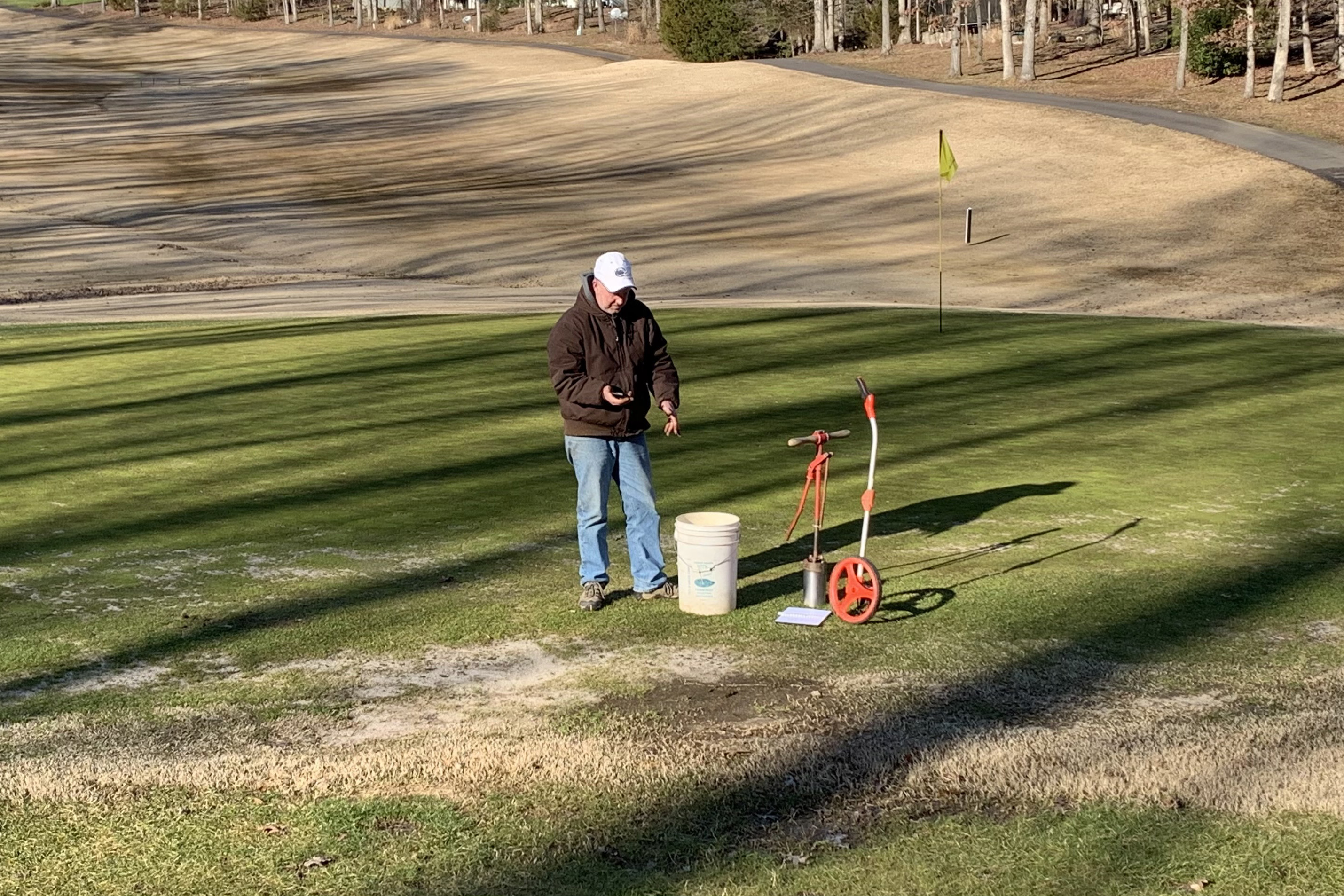 IGM is known in the golf course maintenance industry for its environmentally sensitive approach to achieving healthy, attractive turf and landscaping. Recently, the company installed new soil sensors, SP-110's by Spiio, at Lake of the Woods golf course in Locust Grove, Virginia. The sensors monitor moisture, temperature, salinity, and sunlight reaching the course turf.
While all these measurements support the maintenance plan's overall efficiency, Regional Manager Tyler Minamyer talked about IGM's excitement with the unique light monitoring capability. "Lake of the Woods is a heavily wooded course where we have challenges with poor growing sites, including putting greens. As trees have grown, they have encroached on turf areas and limit sunlight that is needed to grow healthy, sustainable turf." 
The sensor provides quantifiable data to support the need for pruning trees, as well as to limit the removal of trees that aren't truly causing a problem. "We're using Spiio sensors to collect data to help demonstrate to the stakeholders the need for a more aggressive tree management program and to quantify our progress," said Minamyer.
Spiio's Eastern US Sales & Service Representative Greg Goudeau says his company combines the sciences of technology and environmental consciousness. "Spiio sensors are a valuable tool for IGM and their team to help make their agronomic and irrigation plans more efficient and sustainable." He added, "It's also a great communication tool to explain to course members why changes are needed. They don't always understand why the maintenance crew does what they do, but they understand data."
As agronomic experts, IGM also monitors moisture, temperature, and salinity to adjust irrigation levels and chemical applications as environmental conditions vary at Lake of the Woods Golf Course throughout the year. The Spiio measurement dashboards can be viewed on both desktop computers and mobile applications, so they are easily accessible to Superintendent Mike Kuhn, as well as to Minamyer when he is not on-site daily.
"Using technology like Spiio sensors provides accurate and reliable access to data that before was either very costly or labor intensive to gather and track. Ultimately, more data leads to better decisions, better programs, and better golf course conditions," said Kuhn.
IGM provides complete golf course maintenance services in markets across the U.S. The company is committed to agronomic excellence and environmentally conscious methods and products. To request a consult, please contact Greg Plotner, Executive Vice President, 407-589-7200. Additional information may be obtained by visiting IGM's website at golfmaintenance.com.