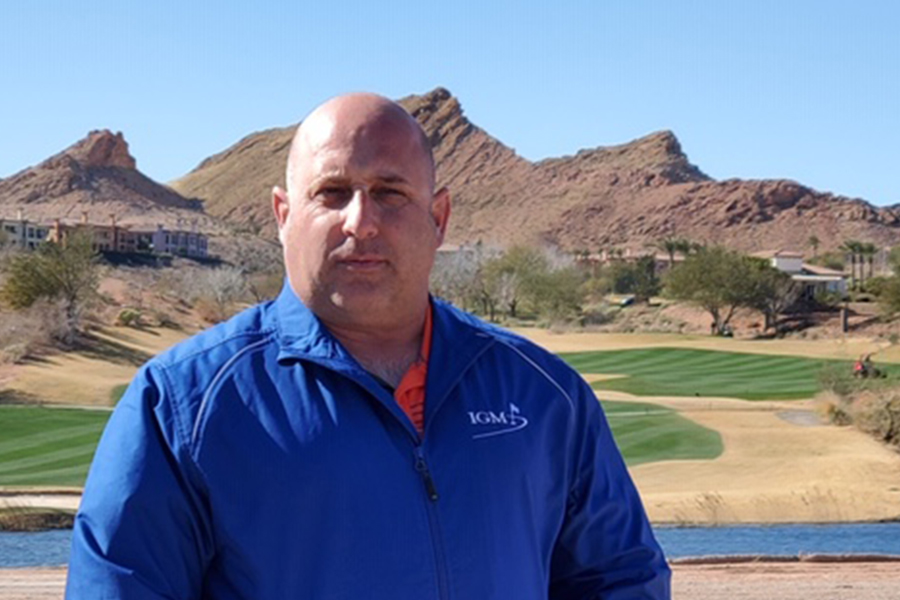 IGM West Coast Regional Manager Jon Dodds has always known he wanted to work outdoors. At age 13, he took up golfing, and his pleasure in the game has never waned.
Though his adolescent goal was to be a professional golfer, in college he turned his attention to turf management. That decision has kept Dodds on golf courses and working outside ever since.
"I played on my high school team and wanted to play in college, but I had to focus on academics," Jon Dodds says. Though he considered a career in golf course architecture, "I knew I didn't want to be cooped up in an office and realized that wasn't my direction." He earned a Bachelor of Science degree in agriculture and turfgrass management from the University of Arizona in Tucson before starting his golf course maintenance career in Nevada.
With 18 years' experience in the industry, when Dodds learned of a golf course superintendent opening at IGM in 2014, he was quick to apply. "I've always been competitive, so the opportunity was appealing." He soon took over IGM superintendent responsibilities for two popular, high-end golf courses in Las Vegas.
IGM Vice-President of Operations Steve Gano says adding Dodds to the company was a big asset. "He has a spectacular resume. With his performance as superintendent at other Nevada courses (Bali Hai, Bear's Best and TPC), he brought valuable, regional agronomic experience where we had a need."  After successfully maintaining two of the state's top ten courses for five years, Dodds was promoted to West Coast Regional Manager in 2019.
The regional manager job entails oversight of IGM's courses in three states – Nevada, California and Arizona. Dodds enjoys working with the superintendents and general managers on turf maintenance plans and budgets, as well as riding the courses to address any issues. He admits he spends more time in the car these days, but "I'm still outside, and it's less stressful than managing the daily problems. I'm not afraid to get my hands dirty, though."
Dodds is married and has a son in college studying zoology. He still enjoys playing golf but only manages to do so about four times a year. Gano adds that Dodds "is a heck of a golfer." In his free time, he continues to be partial to outdoor activities, as he also enjoys trout fishing in the mountains, camping, and hiking.
IGM is a leading contractor for comprehensive golf course maintenance and management, known for environmental stewardship and agronomic expertise. For more information on IGM and the professional golf course services offered, please contact Greg Plotner, Executive Vice President, 407-589-7200. Additional information may be obtained by visiting IGM's website at golfmaintenance.com.