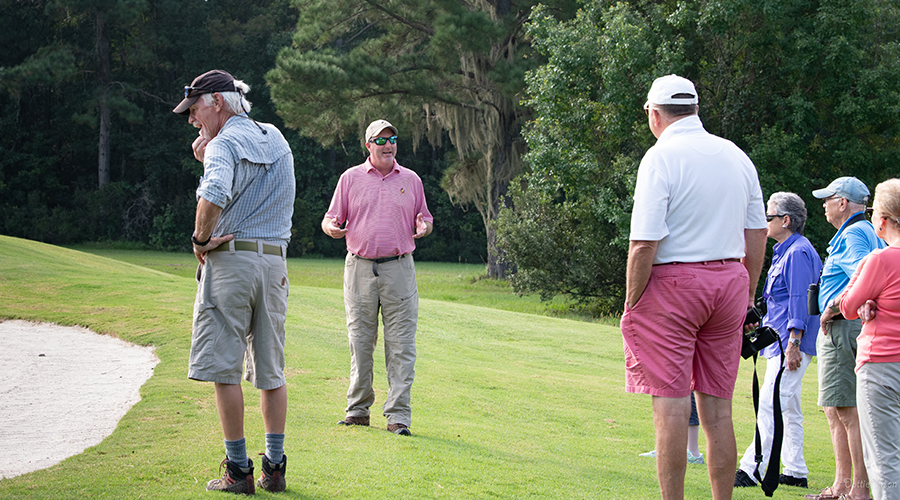 IGM takes great pride in the golf course superintendents who manage the maintenance of our clients' golf courses. Our company and our clients hold high standards for the performance and appearance of the courses, and these outstanding employees ensure those standards are met on a daily basis.
Jeff Miller, IGM Superintendent // Brays Island Golf Club
Jeff Miller, IGM Superintendent at Brays Island Golf Club in South Carolina, has always been interested in landscaping and agriculture, but it was in college that the idea of working on a golf course occurred to him.
"We were hanging out and thinking about jobs after college, and I joked that golf courses would be fun because you could have an 8 a.m. tee time every day. It's not true, but it made me think."
Today, Miller says "turns out it was a good fit," as he is in his 10th year as superintendent at Brays Island in South Carolina. "It's an incredible place to work, near the beach."  What he really finds rewarding, though is "seeing what's accomplished every day. I can ride the course and see the results of all our hard work." Miller also appreciates the "brotherhood/sisterhood within the profession. Other industry professionals will share equipment and knowledge when you need it."
After earning a bachelor's degree in horticultural sciences from Texas A&M and Cal Poly, Miller returned to his Atlanta hometown with a job as a spray technician at Marietta Country Club. He worked his way up to his first superintendent job with IGM at the Ft. McPherson golf course. After a difficult year in which four IGM golf courses were destroyed by hurricanes, Miller left the industry rather than relocate his family. He was recruited back 10 years ago to oversee the Brays Island Golf Club.
"We were glad to bring him back to IGM," said Vice-President of Operations Steve Gano. "Jeff is a great asset and embodies IGM's culture and expectations. Brays Island is a long-time client and a beautiful course."
It's not always beach weather at Brays Island, however, as Miller found his course covered in snow for six days several years ago. "South Carolina coastal areas aren't prepared for that, and it was tough on the greens." In addition, Hurricane Matthew downed numerous trees on the courses and the entire Brays Island community in 2018. Miller and IGM orchestrated clean up to reopen the roads and golf course.
Wildlife creates interesting experiences on many golf courses. During Miller's first tour of the course, he saw unusual tracks in the morning dew and asked Steve Gano what those were. Miller did not believe the explanation until several holes later when they encountered an alligator crossing the fairway. "I'm from Atlanta, so I wasn't familiar with gators," he says.
Miller is the father of two teens, neither of whom shares his love of landscaping. In his spare time, he enjoys bow hunting and saltwater fishing, as well as recreational golf. Miller emphasizes "recreational."
IGM is a leading contractor for comprehensive golf course maintenance and management, known for environmental stewardship and agronomic expertise. For more information on IGM and the professional golf course services offered, please contact Greg Plotner, Executive Vice President, 407-589-7200.