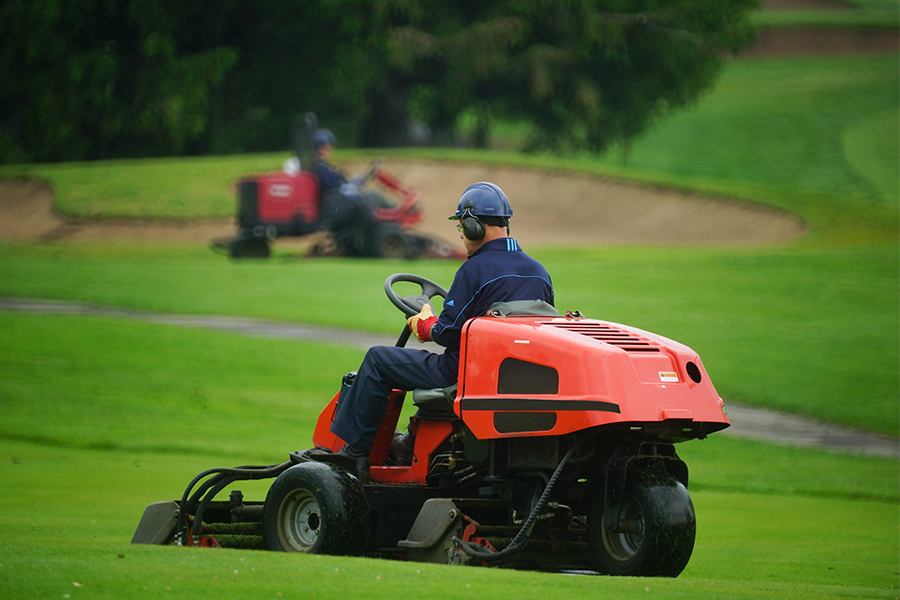 "If you don't like working outdoors, don't apply for golf course maintenance jobs," says Mike Fontaine, IGM General Manager at The Ledges Golf Club in Massachusetts.
Enjoying hard work outdoors is typically the first response to the question of "why work on a golf course?" However, other benefits are as diverse as the golf courses themselves.
As a leading golf course maintenance contractor, IGM offers job opportunities at courses across the country. Fontaine adds, "The crew all enjoy working outside. Mornings and evening are especially nice. We don't have a lot of turnover." Everyone finds different benefits:
Many employees are drawn to golf course maintenance jobs by their love for fresh air and nature.
Some start with part-time golf course jobs while in school and develop an appreciation for the environment, sense of accomplishment, and opportunities for advancement.
Retirees are often attracted to early morning hours and finishing work early in the day.
College students, and most crew members, like the exercise and stress relief.
Law enforcement officers, firefighters, and military personnel have proven to be well-suited for the work, discipline, and flexible hours.
Fontaine started working part-time on a golf course as a young teenager and decided to stay in the industry. He pursued his education at University of Massachusetts and worked his way up to his current superintendent and general manager role with IGM. "It's a great sense of accomplishment to work a course from planting seed to grow-in." Fontaine also likes the challenge. "IGM has improved every course we've worked. It's hard for a course to get to the top, but it's harder to stay there." Chris Eckart, IGM Superintendent at Sebastian Municipal Golf Course in Florida, studied landscape architecture in school and got his first golf course maintenance job while learning to play the game. It was a good fit.
"I always knew I wanted to work outside with plants and trees. I like the early hours, changing environment, being responsible for the health of the place. It's rewarding to see things grow and feel like you're doing your part environmentally."
At Reflection Bay Golf Club in Nevada, IGM Superintendent Ryan Howell says, "I love science, and every day is a science experiment when it comes to trying different cultural practices for greens management, mowing heights, and building projects." He strives to instill independence in his staff to try new things, whether for aesthetic purposes or efficiency, as well as to be different from other golf courses. "My goal has always been to have the golf course better than it was the year before. It's nice to see somewhat immediate results of what we are doing."
The superintendents agree that golf course maintenance crews work together like a family, and even become competitive among other courses. The Ledges Golf Club is one of three IGM-maintained Massachusetts courses close in proximity.
Fontaine says, "People take great pride in their work. They all have pictures on their phones. They love hearing compliments from the golfers and comparing with other courses. We share workers with nearby IGM courses sometimes, but they always want their course to be better than the others."
IGM employees also take pride in the company's commitment to environmentally friendly practices, including sensitivity to native wildlife. Eckart noted the variety of wildlife he encounters on his Florida golf course is a benefit for him. "The wildlife is cool. We have alligators, sandhill cranes, gopher tortoises, foxes, and all types of ducks, among others." IGM client courses participate in the Audubon Cooperative Sanctuary Program for Golf.
IGM employs a core of full-time crew members at their clients' golf courses, as well as part-time maintenance staff. Eckart points out that no experience is needed for golf course maintenance jobs, as IGM trains its employees to their quality standards. Superintendents and assistants at IGM are often promoted from the ranks of the crew as their leadership skills develop. Fontaine says in his 16-year career with IGM, he's had five assistants move up to superintendent jobs. IGM's pay and benefits are market competitive. For more information about employment opportunities, contact us at 800-413-5500 or igminfo@golfmaintenance.com.
IGM is a leading contractor for comprehensive golf course maintenance and management, known for environmental stewardship and agronomic expertise. For more information on IGM and the professional golf course services offered, please contact Greg Plotner, Executive Vice President, 407-589-7200. Additional information may be obtained by visiting IGM's website at golfmaintenance.com.