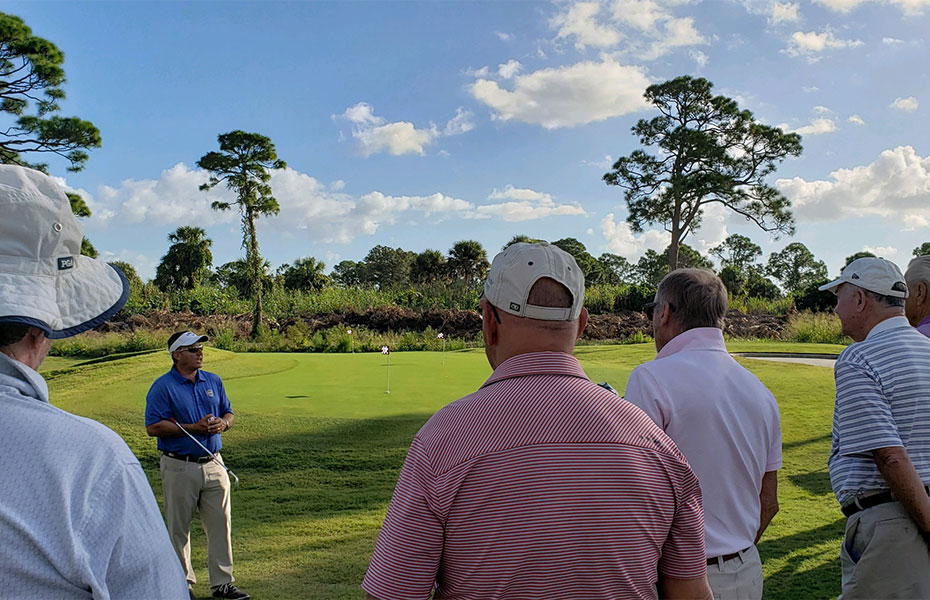 International Golf Maintenance prides itself on its positive client relationships, working more as partners than vendors with the golf course owners and managers it serves. When Sandridge Golf Club wanted a new short game practice area as a public amenity for its courses, IGM found a way to make it happen at an affordable cost to the municipally owned club.
IGM has provided comprehensive agronomic care and maintenance for Indian River County's Sandridge Golf Club since the mid-1990's.
Located in scenic Vero Beach, FL, the club features two 18-hole championship courses designed by renowned architect Ron Garl. When Director of Golf and PGA member Bela Nagy envisioned restoring an overgrown area near the parking lot as a practice facility, IGM and Superintendent Ryan Duffell were determined to complete the project for their longtime client.
Duffell describes the site as about one-acre that was mostly overgrown with vines and old foliage and a couple of trees. "It had an old putting green that Bela wanted to expand into practice greens for the public. We developed it into a 3-hole putting green, with bunkers, in a way that matches the existing courses," said Duffell, who oversaw the project.
Starting in summer 2018, the work involved:
Clearing the area of some trees and overgrown foliage
Grinding the wood and foliage into mulch for removal
Shaping the existing dirt and building bunkers for each green
Installing appropriate irrigation through a contractor
Placing sod and grass sprigs (Bermuda 419) for the greens
Fertilizing and water until the grass grew in and was established
Adding sand for the bunkers
Building a concrete path and cart turnaround for golfers
The new short game practice area opened to the public in the fall of 2018, when the grass had fully grown in. "It's a nice public amenity and seems to have gone over well," said Duffell. "People are always on it, chipping balls and putting. It's close to the parking lot, so it's convenient for practice or warming up."
With IGM and its maintenance crew handling the bulk of the work, Duffell estimates the total cost was less than half what an outside contractor would have charged. Because IGM executives and Sandridge Golf Club have a long-term relationship, they can plan and budget for capital expenses and major projects on an on-going basis. As IGM Executive Vice-President Greg Plotner explained, "We strive to work as partners with our clients, with Superintendents on-site as daily advocates. Our goal is always to implement the best agronomic and golf course maintenance programs to preserve and grow the owner's investment."
Sandridge Golf Club's two courses, Dunes Course and Lakes Course, are popular with serious and casual golfers alike. Golf Digest has rated the club four-and-a-half stars, with a spot on the magazine's "Places to Play List." In addition, IGM and Sandridge share a commitment to environmentally conscious techniques and products, which have attained "Audubon-certified" status for the club since 1999.
IGM provides comprehensive golf course maintenance and management services in markets across the country. The company is committed to agronomic excellence and environmentally conscious methods and products. To request a consult, please contact Greg Plotner, Executive Vice President, 407-589-7200. Additional information on our maintenance services may be found here.